Driving School Summerside Edmonton
Leap Driving School Summerside in Edmonton is a great option for anyone looking for a reputable and reliable driving school. When it comes to learning how to drive, you want to make sure that you choose a school that offers quality instruction, experienced instructors, and a safe and supportive learning environment.  Here are some reasons why you should consider Leap Driving School Summerside Edmonton for your driving lessons:
Experienced Instructors:
At Leap Driving School Summerside Edmonton, our instructors are highly trained and experienced. We know how to teach you the essential skills you need to become a safe and confident driver. We provide individualized instruction that is tailored to your specific needs and learning style.
Comprehensive Curriculum:
The curriculum we teach at Leap Driving School Summerside Edmonton is comprehensive and covers all the necessary aspects of driving, including basic vehicle operation, road rules and regulations, defensive driving techniques, and hazard perception. You will receive comprehensive instruction from our experienced driving instructors to help you become a safe and competent driver.
Flexible Scheduling:
We are the popular driving school in Summerside Edmonton and offer flexible scheduling options to accommodate your busy lifestyle. We understand that everyone has different schedules and provide the convenience of scheduling lessons at times that work best for you.
Affordable Pricing:
At LeaP Driving School Edmonton we offer competitive pricing for their driving lessons, making it accessible for everyone who wants to learn how to drive. We offer different packages that cater to different needs and budgets.
Safe and Reliable Vehicles:
We maintain safe and reliable vehicles that are equipped with dual brakes and mirrors for added safety. You can be confident that you are learning to drive in a safe and reliable vehicle.
Personalized Attention:
Our experienced driving instructors provide personalized attention to each student. We understand that every student is unique, and they tailor their instruction to suit your learning style and needs. This individualized approach helps you learn more effectively and feel more comfortable behind the wheel.
Positive Learning Environment:
We provide a safe and supportive learning environment where you can learn to drive with confidence. We have patient and friendly instructors who will guide you through every step of the learning process.
 Excellent Customer Service:
Leap Driving School Edmonton is known for providing excellent customer service. We are responsive to learner's needs and concerns, and work hard to ensure that each student has a positive experience while learning to drive. 
We believe that Leap Driving School in Summerside is a great choice for anyone looking to learn how to drive. With our experienced instructors, a comprehensive curriculum, flexible scheduling, affordable pricing, safe and reliable vehicles, personalized attention, and a positive learning environment, you can be confident that you are receiving the best possible driving education.
Key aspects of LEAP Driving School:
Classroom Instruction: LEAP Driving school offer classroom-based instruction to provide students with the necessary knowledge about traffic laws, rules, and regulations. This includes understanding road signs, traffic signals, right-of-way rules, and other essential information for safe driving.
Behind-the-Wheel Training:

Our Driving school offer practical, hands-on training behind the wheel of a vehicle. We have Certified driving instructors who provides individualized instruction to students, teaching them the necessary skills and techniques required for safe driving. Driving School cars equipped with dual controls, allowing instructors to intervene if necessary.

Defensive Driving Techniques: Our experienced driving instructors emphasize on the importance of defensive driving, teaching students how to anticipate and respond to potential hazards on the road. This includes teaching defensive driving techniques such as maintaining safe following 2 to 4 sec distances, scanning for potential dangers 12 to 15 sec ahead, and making appropriate decisions in challenging driving situations.
Preparation for Driving Exams: We prepare our students for their driving exams, including the written knowledge test and the practical driving test. Our instructors provide guidance and practice opportunities to ensure that students are well-prepared to pass these tests and obtain their driver's licenses.
Driver Improvement Courses: We also offer additional courses for licensed drivers who want to improve their driving skills. These courses may focus on specific areas such as advanced driving techniques, winter driving lessons, or defensive driving.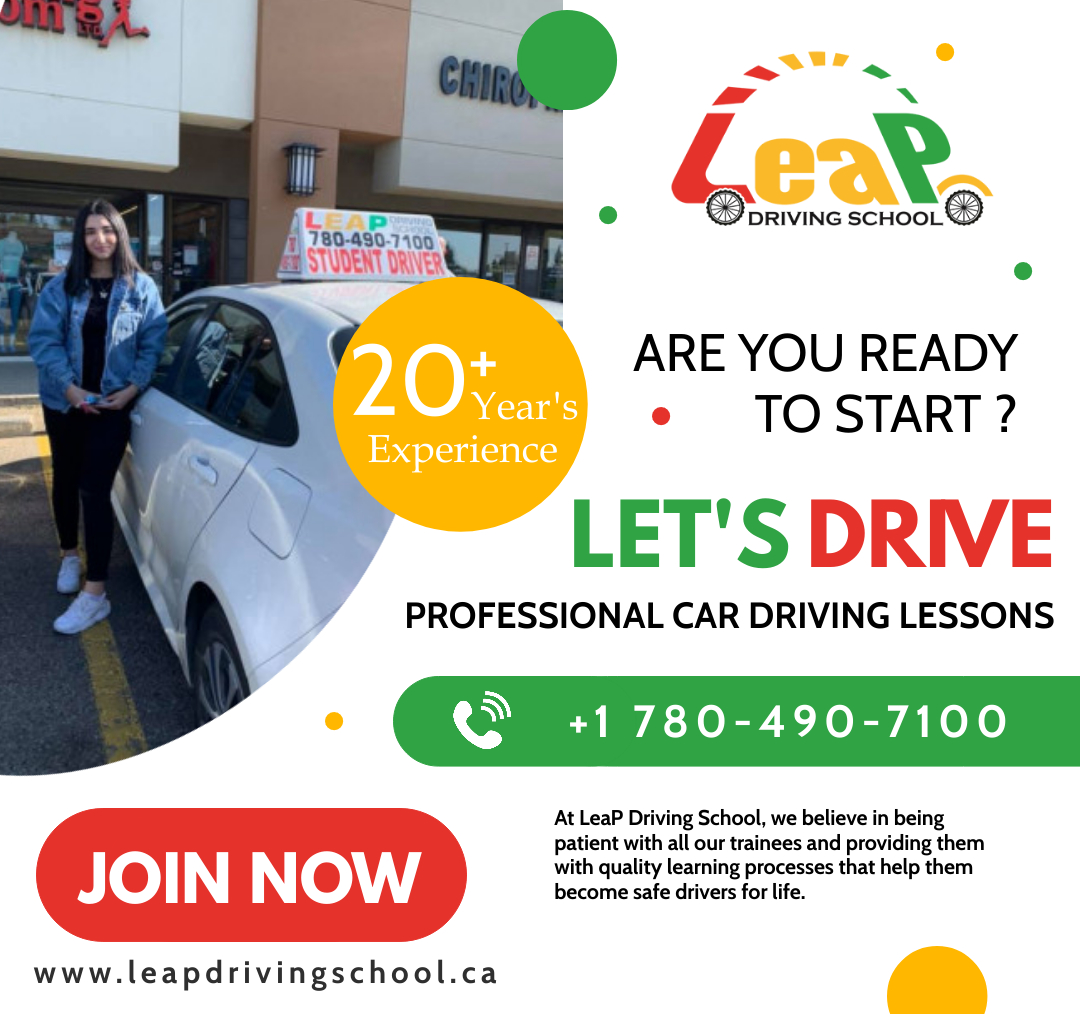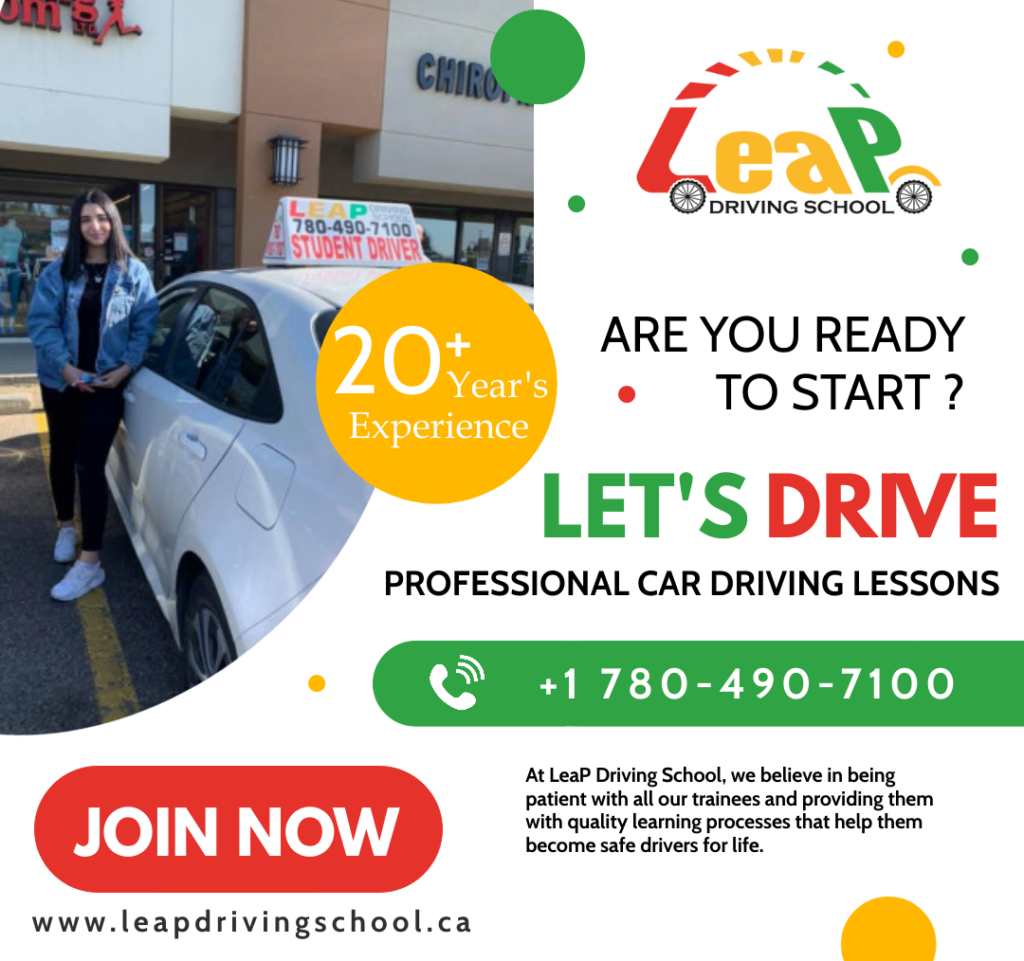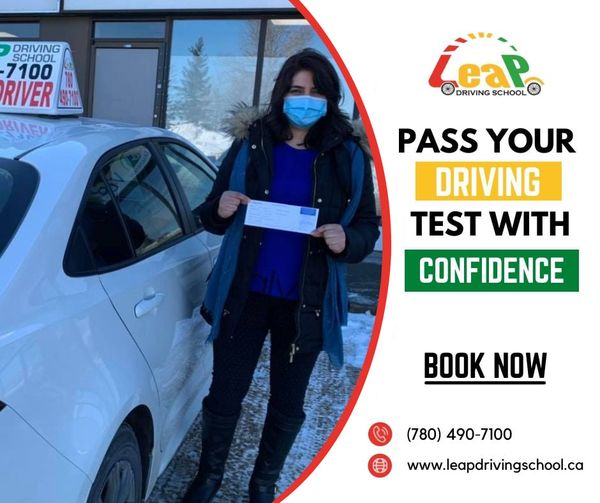 Driving Courses in Edmonton
LeaP Driving School provides different Driving Courses in Edmonton to suit you and your individual requirements with a range of learn to drive packages at very affordable prices. 
Driver's Training Courses
We offer different Driver's Training Course available in Edmonton and the surrounding area.  Our Basic Driving Course is ideal for learners who are interested in getting Insurance Discount. Our Premium Driving Course is our most popular training offering extra lessons for students to gain more confidence on the road. We also offer other options available including knowledge test preparation, brush-up lessons, insurance discount course, defensive driving course (3 demerit points reduction), and car rental option for the road test.
Please feel free to contact us for more information, we would be more than happy to answer any questions you may have regarding our driving courses. 
competitor: $895
With us: $545
competitor: $1,095
With us: $745
competitor: $1650
With us: $1050
WHAT Our CLIENTS SAY ABOUT US
Leap Driving School is one of the best driving schools of Edmonton. Their owner and lead instructor is very professional. He knows all the ins and outs of driving in Edmonton, Alberta. He is very patient and made you feel comfortable as soon as you start driving and he will go all the way for you to past your exam in 1st attempt. I would recommend everyone to take classes from him as he is not only a good instructor but also a good human being as well. One more quality which I like the most is his commitment and punctuality. Thanks Mr. Asif and Leap Driving School for your tireless effort.
Aamir Bana
I have received excellent & professional service from this driving school. I have passed my Advance Road test with their help in first attempt. I have taken lesson with other driving schools in the past but this driving school stands out. My instructor was very calm, had excellent communication skills & explained rules very clearly. I will rate this school in Top 3 driving schools in Edmonton. I would highly recommend this school if you want to take quality training at affordable cost.
Nayan Arora
I have such high anxiety when it comes to driving . I have never felt so comfortable and safe during lessons with Asif ! My anxiety while still there has decreased and I'm more confident everyday! Thank you Asif for your patience understanding and amazing instruction.
Amanda Escalante
I highly recommended Leap Driving School if you are looking for someone to help you learn the skills needed to become a driver. Asif taught me a lot of techniques during my in car class, he was so patient and professional. I was afraid to drive in the highways at first and I thought parallel parking is hard but i was able to conquer my fear because he is soooo good on his profession. Again thank you so much!
Lisa Chua
Very Professional Driving School, Asif was my instructor and I could not have asked for a more patient and good teacher. I would highly recommend him for anyone who wants to learn fast as he makes driving a comfortable and exciting experience and knows how to make his students more confident in their driving.
Leen Maarouf
The driving school offered services immediately, Asif was the instructor I had, I recommend everyone to get lessons with Asif. Asif was extremely patient and made me feel comfortable in the car. My first lesson, I was extremely nervous and did not know the difference between the break and go pedal. After only 5 lessons with Asif, I have gained the confidence in being able to drive by my myself. I recommend everyone to take their lessons with Asif he makes your learning experience so much easier.!
Nour Abdul-Rahim
I would give more stars if I could. The best professional behaviour ever! I did some brush up lessons before my test and the instructor was the definition of perfect. He was patient and was very quick to try his absolute best to not only answer any questions, but make sure you understand why and can apply it to driving. He knows his stuff front and back. If you want to learn to drive then your best bet by far is to use Leap Driving School. Best school not only in Edmonton, but by far the best school there is! Thank you Leap Driving School
Markus Scharfenberger
Excellent training , my kids love it we highly recommend it .
Juan Torres
Excellent instructor and extremely friendly. Gives very good guidance of driving. Highly recommended if anyone is looking for lessons in Edmonton, Alberta, Canada.
Saurin Rahman
I had very good experience with Mr Asif at leap-driving school . Professional , detail- oriented and very calm instructor . I am happy that I did a decision to book my 10 hour training with leapdriving . He will not only prepare you for road exam but he is also covers all daily driving skills that you will need while you drive in the city. And not to mention that he tried hard to lower my anxiety just before the exam then I was able to pass my Road- test at very busy weekend yesterday easily . Thank you for 5 star business that you provide to us.
Sarezh kamla
Was very nervous about driving in the beginning. He made it fun and took all the fear away. Because of his great teaching skills I was able to pass my road exam on the first try. Even made parallel parking the easiest.
April Scott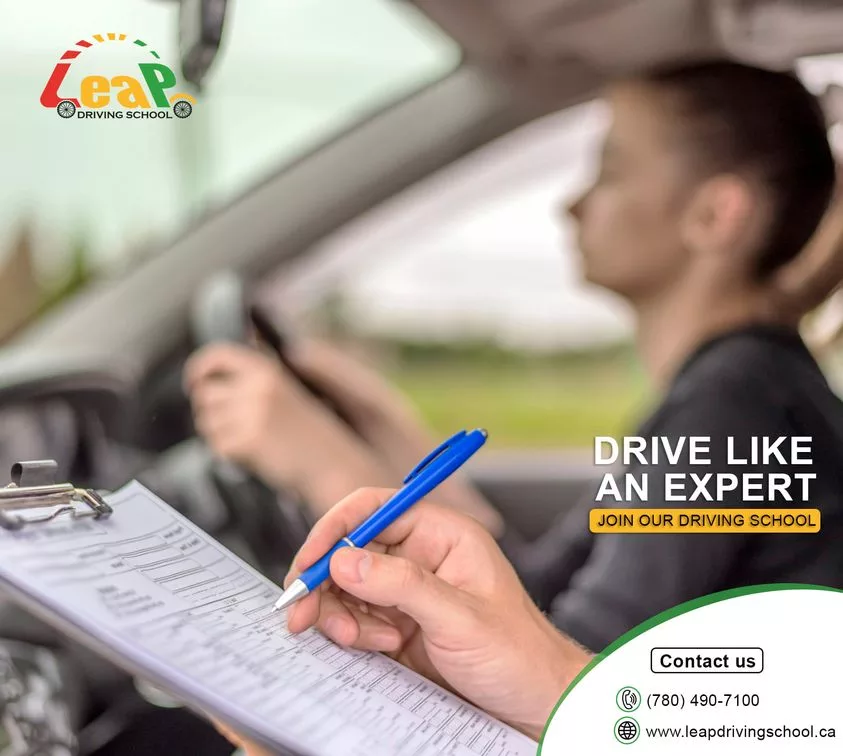 Passing your road test on the first attempt can be a nerve-wracking but achievable feat. In Edmonton, where driving skills are rigorously assessed, a well-prepared approach is crucial. This guide
Read More »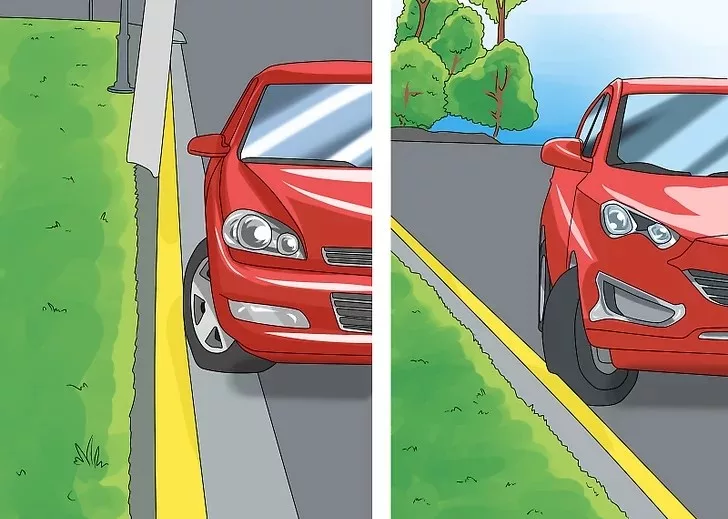 As a driver, it is essential to be acquainted with the different hill parking methods you may encounter while driving. Your road test will include hill parking, and the examiner
Read More »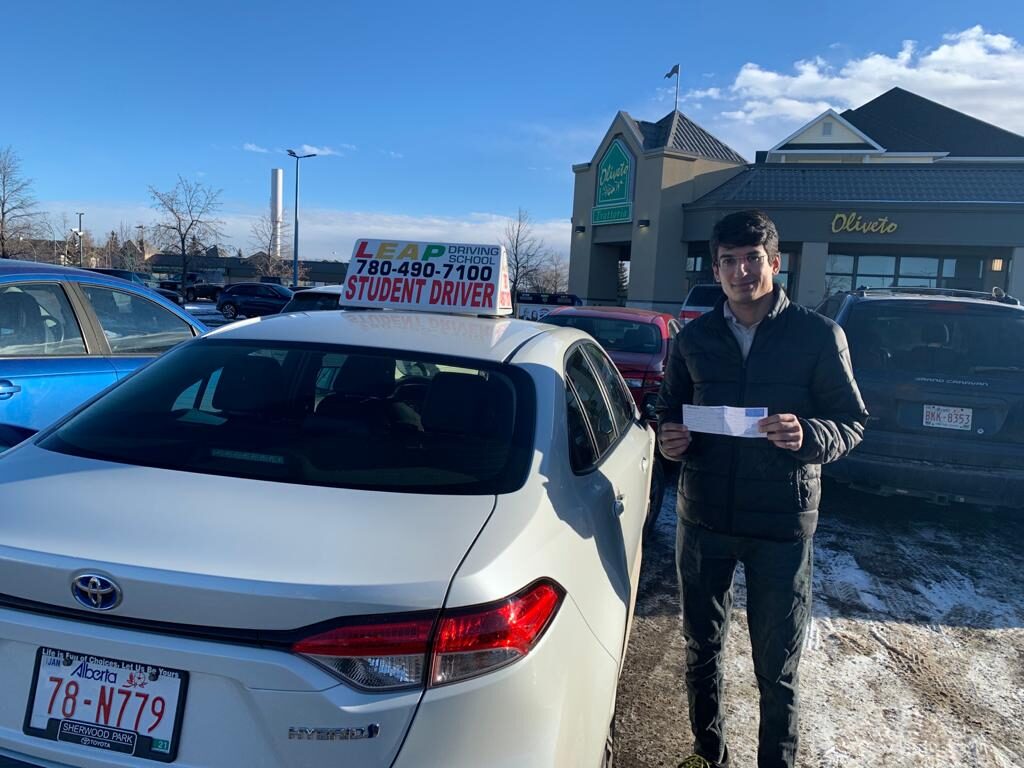 There are several benefits of renting driving school car for your road test. Road tests can make even experience drivers nervous. Below are some of the most important benefits of
Read More »